Welcome to the official website for Kevin Gilbert.
We hope you enjoy our new look and updated content.
Join us on our FaceBook & YouTube pages.
Please bookmark this site for news and updates.
THUD Release Delayed Due To Port Strike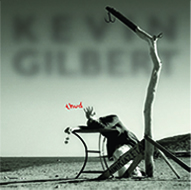 We were looking forward to releasing THUD by mid-November. Unfortunately, there has been an ongoing labor strike affecting the ports of Los Angeles & Long Beach, which has delayed delivery of the THUD books. Our new delivery date is set for early January. As soon as we take receipt of the books, THUD will be available for sale here at KevinGilbert.com.
In the meantime, please enjoy "Goodness Gracious – Can-Am Mix", from the forthcoming 3 CD set.
Two New CDs Available Now!
We are excited to present these two new releases. Sold separately or together for added savings.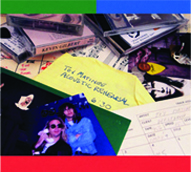 Kevin Gilbert – Toy Matinee Acoustic


6 Acoustic rehearsal tracks recorded live, in-studio, in 1990,
with Kevin Gilbert, Marc Bonilla, and Spencer Campbell.
1 Acoustic Christmas Track recorded live, in-studio, in 1990,
with Kevin Gilbert & Marc Bonilla
3 Full-band live tracks recorded live, on-stage, in Ventura, Ca. in 1991,
with Kevin Gilbert, Marc Bonilla, Spencer Campbell, Sheryl Crow, and Toss Panos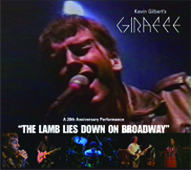 Kevin Gilbert's GIRAFFE:
A 20th Anniversary Performance Of
"The Lamb Lies Down On Broadway"


13 tracks • 75 minute CD
Recorded live at Valley Arts Center, Los Angeles, CA • November 8, 1994,
with Kevin Gilbert, Nick D'Virgilio, Stan Cotey, David Kerzner, and Dan Hancock